With the Federal Reserve holding its benchmark interest rate at the highest level in 22 years, analysts at Goldman Sachs Group say the "big question" for investors is whether the return to bond yields seen before the global financial crisis of 2008 proves persistent.
"For the U.S., we have more confidence that longer-run rates will ultimately settle higher than the Fed expected last cycle," Goldman analysts said in an economics research report dated Nov. 8. "Resilience in the U.S. looks surer than in some other economies."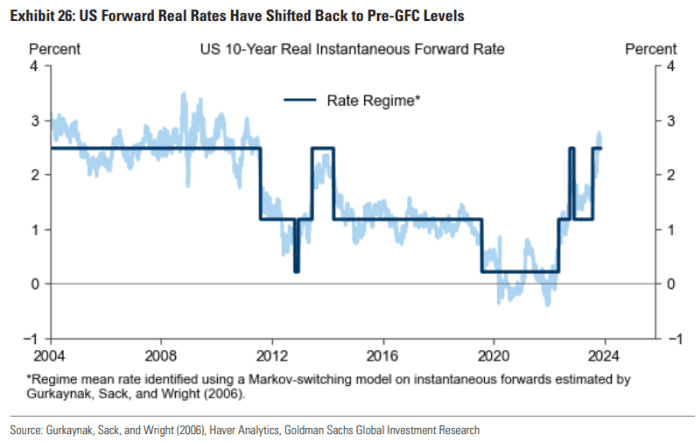 Investors have been anxious about the Fed leaving interest rates higher for longer, although many also are anticipating that the central bank is done raising them after inflation has eased from its 2022 peak.
"A period of 'higher for longer' yields may expose areas of vulnerability in the U.S.—whether it is the access to finance for smaller companies, continued pressure on some credit provision by small banks, or subdued mortgage, housing, and commercial real estate activity," the Goldman analysts said. But "we do not expect these to threaten the overall economic outlook."
They also pointed to investor concern over the U.S. public debt profile and brought the 2024 U.S. presidential election into focus.
"We think markets will remain patient unless next year's U.S. elections bring the possibility of fresh unfunded fiscal expansion," the Goldman analysts said.
Long-term Treasury yields rose this week, with the rate on the 10-year Treasury note
BX:TMUBMUSD10Y
at 4.627% on Friday, according to Dow Jones Market Data. While 10-year yields have fallen this month, they're still up around 80 basis points so far this year based on 3 p.m. Eastern Time levels on Friday.
U.S. yield volatility is "too high" and likely to decline "in our central case," the Goldman analysts said. The "challenge to higher returns" from longer-term government bonds is that "the market is still pricing rate cuts that we think will not be delivered under our baseline forecasts."
Read: Heightened rate volatility points to these opportunities in stocks, bonds for ETF investors, says State Street's Michael Arone
The Fed lifted its benchmark rate to 5.25% to 5.5% in July, and has kept it at that level in an effort to tame inflation that remains above its 2% target. The Fed's next policy meeting will be in December.
"Beyond the growth challenges from higher rates and ongoing geopolitical risks, the biggest reason that a shift toward more balanced allocations may prove premature is the obvious one: the prospect that better growth, stickier inflation, and weaker fiscal positions lead to continued upward pressure on yields and downward pressure on valuations," said the Goldman analysts. "We think those concerns are likely to remain a feature of the near-term outlook, at least until inflation eases enough to settle them."
Still, while the return on cash remains "high," Goldman sees other asset classes outperforming, "at least modestly," next year, according to the note. "A more constructive view on the value of duration in portfolios is a new element for our outlook."
The U.S. economy is on track to grow 2.4% in 2023, which is two percentage points above the consensus forecast from a year ago, the analysts said. Goldman sees just a 15% probability of a recession starting in the next 12 months, below the median forecast for a roughly 50% chance, the note shows.
Still, "the value of bonds as a recession hedge should rise in a world where central banks cut interest rates to offset downside growth risk, especially as inflation falls further," the Goldman analysts said.
"Longer-dated yields above the cash rate would make the case for adding duration simpler," they said, "so the market may need to reach that point, particularly if worries about fiscal sustainability require a larger premium than we expect."