The U.S. government's borrowing blitz isn't over yet.
Money-market funds that breezed through a more than $1.6 trillion deluge of Treasury bill supply since June should make room from another big $450 billion barrage of issuance in the fourth quarter, according to Barclays.
That's the latest T-bill forecast from Barclays strategist Joseph Abate for October through the end of December, based on the Treasury Department's plan to end the year with $750 billion in cash on deposit at the Federal Reserve.
"Although bill issuance will remain heavy through year-end, we expect the additional supply will be easily absorbed with little further cheapening," Abate said Thursday in a client note on money-market funds.
That's largely due to record inflows this year into money-market funds, with flows into government funds swelling to nearly $4.7 billion (see chart) out of a roughly $5.6 trillion of total assets to start September.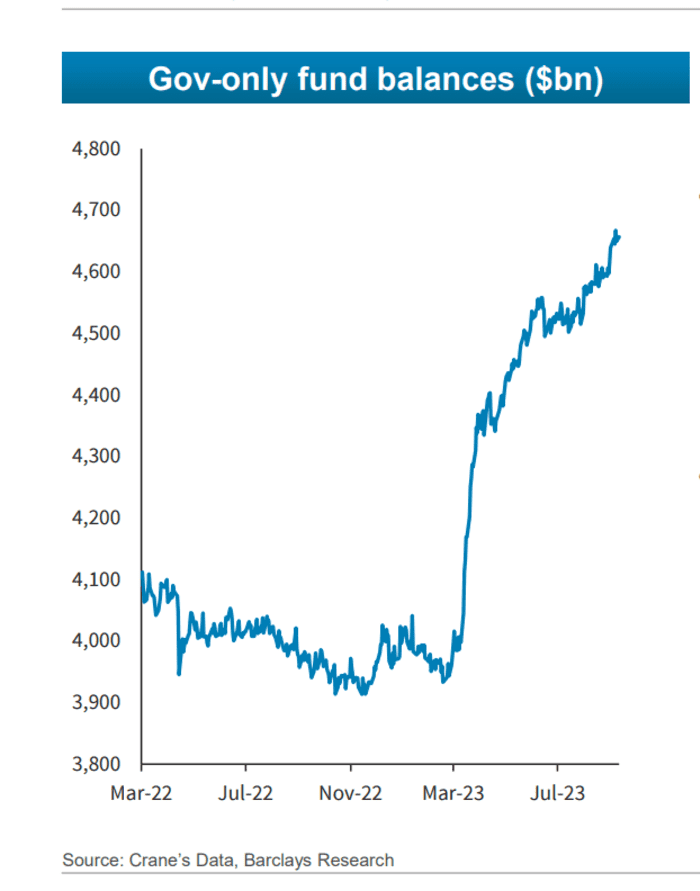 Heavy Treasury bill issuance since the June U.S. debt-ceiling deal has pushed the share of bills as a slice of outstanding government debt to about 22.4% as of August, its highest since the COVID crisis and above the 15%-20% average since the 1980s, according to Barclays.
Yet there has been no shortage of buyers at bill auctions, with the 3-month Treasury bill yield
BX:TMUBMUSD03M
pegged near a 22-year high on Thursday of 5.46%, according to FactSet data.
Related: As T-bill yields climb, Fed's reverse repo facility shrinks to lowest level in 1½ years
Demand for 3-month auctions has outstripped supply by roughly three times since June 1, while remaining robust for 4-week, 8-week and 6-month
BX:TMUBMUSD06M
bill issuance too, according to Barclays.
Abate argues that trend should continue, with his expectation that the Fed will hike rates once more in November, but then keep policy on hold through September 2024. He also sees continued demand from money-market funds and from "DIY" investors, or people willing to navigate the government's clunky TreasuryDirect website for yields around 5%.
See: Why Ray Dalio says cash is 'temporarily' good: 'I don't want to own debt'
Stocks closed higher Thursday, with the Dow Jones Industrial Average
DJIA
on pace for a 1% weekly gain, the S&P 500 index
SPX
up 1.1% and the Nasdaq Composite Index
COMP
1.2% higher since Monday, according to FactSet.
Related: U.S. deficit a worry 'big time' for stocks and bonds, says Yardeni